The Glass
---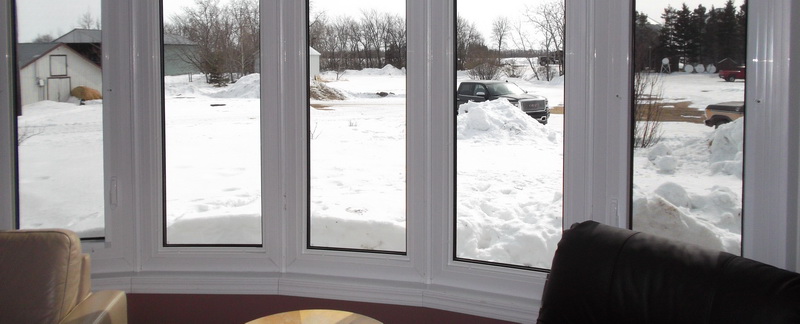 Our harsh prairie climate requires windows that will perform better than most to keep us warm during our prolonged winters when the temperatures are lower.
Triple glazed windows with the right glass combination and insulating products will keep your home warmer, and more comfortable all year round.
At Northome, we make our windows with high insulating triple pane glass units using two sheets of high reflectivity Soft Coat Low E with two 1/2" air spaces filled with Argon gas. This glass combination will provide "U" Values from 0.86 to 1.01 Metric (0.15 to 0.18 imperial) are rated Most Energy Efficient by Energy Star and qualify for all climate zones including the Arctic.
We use Soft Coat Low E (Low Emissivity) coating designed to provide the highest heat reflection performance and exceptional visual clarity. This means that glass with this coating does a superior job of reflecting thermal infrared heat back to where it's coming from, notably, back inside your home in the winter, helping to keep your home warmer. In the summer it works great to reflect harmful UV rays and radiant heat from the sun, keeping your home much cooler and preventing fading and degradation of materials inside your home.
The Argon gas tremendously improves the windows energy efficiency because it is denser than air and provides greater thermal insulation at all times, preventing the transfer of heat from the inside of your home to the outside and the transfer of cold from the outside from coming in. It also gives remarkable noise suppression, reducing traffic, railway, and other unwanted noise.
We go one step further by having our triple pane insulated glass units made with warm edge Super Spacer® bars consisting mainly of structural foam that do not incorporate any metal. Spacer bars that incorporate metal, transfer hot and cold very readily, resulting in more seal failures and a very high likelihood of condensation and even frost. The warm edge technology provided by Super Spacer® is a huge improvement over metal spacer bars, thermoplastic spacer bars, and the Intercept spacer bar in combating moisture on windows because of its warm edge of glass temperature.
We feel so strongly about using the warmest glass possible in our windows, that we will only use triple pane windows when installing windows for residential use. With this triple pane glass combination, you can have a window that is four to five times warmer than that of a standard dual pane window for just a small percentage more in cost, which will be recovered in energy cost savings.
The warmer the interior glass, the higher the humidity you can have without fear of condensation, the closer you can sit to the window without feeling coolness, the less frequent the heating system will cycle (saving energy consumption) and the more even and consistent the temperature will be for improved comfort.
Our Insulated Glass Units are manufactured by Anatoli Glass and Mirror (AGM) out of Winnipeg, MB. All of our IG (Insulated Glass) units are IGMAC certified. IGMAC stands for Insulating Glass Manufacturers Association of Canada. The manufacturing plant, their procedures and their sealed units are examined and tested. The manufacturer has to agree to document a test of one unit from each days manufacturing run. The manufacturer also agrees to random ongoing inspections of their product, daily testing and manufacturing procedures. The benefit to the consumer is peace of mind knowing that stringent quality control procedures have have been followed in the manufacturing of their windows.