Our Staff
---

From Cheryl's Desk … a Tribute to our Team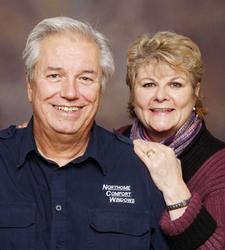 I truly want to show my appreciation to this team of people that work with Nelson and myself to make this business what it is. Every day of the year the staff at Northome Comfort Windows strives to exceed our customer's expectations.
Today we feel very proud of our team of people that are doing their very best to make Northome Comfort Windows Incorporated one of the most professional and outstanding service providers in this industry. The pride you show in doing your day-to-day work comes shining through.
We have never had such a large number of employees; in fabrication, in the office, in the back shop, in sales, and installing in people's homes. All of you are assisting people from all of our trading area with professionalism; in answering calls, servicing customers, installing windows with care and respect for our customers and their homes, building windows with precision, selling windows with integrity, driving crews safely to jobsites, scheduling installation teams around customers needs, ordering product, receiving shipments, reacting to and complying with OHS rules, keeping our plant clean, ensuring vehicles & trailers are loaded and safe, training new hires to build windows and install windows, aiding the Regina franchisee venture, being leaders, being jokesters, being upbeat, being team players. Whew! we can't say enough about how many skills you each contribute to our operation.
One of the best things about this business is seeing previous customers and seeing the smiles on their faces, enjoying their windows and passing on admiration for our employees, from the first phone call, to receiving the information package, to having discussions about the product with the sales agent, to having their job booked, and ultimately having their job installed.

When Nelson and I sit at a sales call we go into great detail about all the behind-the-scenes work to get the product built and into their home, outlining all the steps and stages of the process and the people who make it happen. It is easy to be enthusiastic about our exceptional product and our professional people. It is personally rewarding.

We want to thank each of our employees for your exceptional dedication to our business, to the service you do for our customers, and your very hard work satisfying all of our customers concerns with professionalism.

Thank you. We appreciate you.
Cheryl & Nelson Coupland
Tom T - Since 1991

Larry U - Since 1998

Gene B - Since 1999

Yvonne L - Since 2000

Jerry K - Since 2004

Larry T - Since 2006

Sy K - Since 2008

Duane T - Since 2008

John T - Since 2009

Sharon F - Since 2011

Jonny C - Since 2011

Sandy G - Since 2012

Stefan O - Since 2013

Picture Unavailable

Rusty R - Since 2013

Neill S- Since 2013

Meagan P - Since 2013

Picture Unavailable

Sean M - Since 2014

Joan S - Since 2014