NAFS
---
NAFS (North American Fenestration Standards)
When we tested our windows in 2009 we knew very little about how NAFS would come in to play in the future of our window company. Since then, NAFS has been implemented in the Canadian Building Code and is meant to harmonize Canadian and American testing standards for windows and doors. These standards exist to make sure windows are strong enough to stand up in the environment in which they're installed. In Canada, however, NAFS 08 must be used in conjunction with the Canadian Supplement. The Canadian Supplement understands the differences and uses that informaton to figure out the specific standards that windows must meet, through use of geographic, climatic and terrain parameters.
The energy efficiency of a building is important in many climates. NAFS does not deal with energy ratings such as U Factor, Solar Heat Gain Coefficient, Condensation Resistance and Visible Light Transmittance. However, the physical performance of windows, doors, and other openings, with regard to air infiltration and water penetration are related to the energy efficiency of a window product. The primary test procedures are for air infiltration, and exfiltration, water penetration and structural capacity.
NAFS levels the playng field when comparing products, forcing everyone to meet the same standards. To achieve these standards, window manufacturers are required to retest their products to show they comply. NAFS does not have a single minimum rating system anymore but classifies fenestration products in Performance Class, Performance Grade, and Gateway Performance.
Performance Class: There are four Performance Classes:
R - Light Duty, commonly used in single family dwellings
LC - Medium Duty, commonly used in low-rise, and mid-rise multifamily dwellings
CW - Heavy Duty, commonly used in low to mid rise multi-family dwellings, where limits on deflections are imposed and tougher environmental constraints exist.
AW: Severe duty, used in high rises or when extreme use of fenestrations is expected.
Performance Grade
is a single numeric grade given based on Design Pressure which represents how a window performs in each of the following tests. As well, the Performance Grade is determined by geographic location, building height, terrain conditions and serviceability.
Uniform load tests
Air and water penetration resistance
Operability
Forced Entry
Fabrication Quality
Stiffness and Stress tests
Hardware load tests
Other tests for durability, and life cycle test
Gateway Requirements in each Performance Class has a set of requirements, these are minimum test sizes and pressures that each product must meet to qualify for a Performance Class.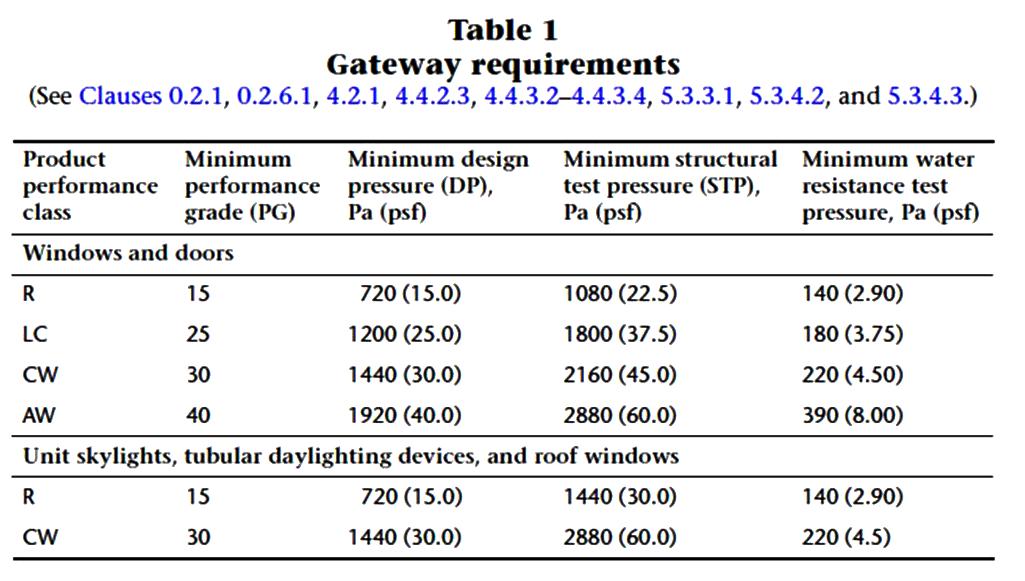 The first thing you will notice is that each Class has a higher minimum Performance Grade, design pressure, structural test pressure and water penetration resistance test pressure than the Class before. The Classes are Ranked with R having the least stringent requirements, followed by LC, CW and AW.
This time when we tested our windows, we made our windows larger and within the size specifications for Class LC, which is the same as Class CW. Our goal was to have our windows qualify for Class LC as we wanted to have the option of having our windows installed not only in single family homes, but also multi-family dwellings. A Performance Class LC with good Performance Grade numbers would allow that. We were pleasantly surprised when our windows surpased even the LC class when tested and qualified for Class CW with excellent Performance Grades.
The results from our windows are as follows:
Vinyl Fixed Picture (LPF - Low Profile Frame) Class CW PG -100 Size - 68" x 60" (1727 mm x 1524 mm)
Vinyl Fixed Casement /Sash (HPF-High Profile Frame) Class CW PG -100 Size - 59' x 59'' (1500 mm x 1500 mm)
Vinyl Casement (CAS - Casement) - Class CW PG 75 Size - 31" x 59" (800 mm x 1500 mm)
Vinyl Awning (AWN - Awning) - Class CW PG 70 Size - 49" x 39" (1245 mm x 991 mm)
For more information about Energy Star and NAFS at www.nrcan.gc.ca
Do all windows made in Canada have their windows tested to NAFS 08 and the Canadian Supplement?
Unfortunately, not all provinces of Canada choose to comply with the new NAFS standards. Alberta, Quebec and New Brunswick, except for the city of Moncton, are not compliant with the newest NAFS standards. They choose to use older Building Code and only require windows tested to the older CSA 440 requirements. You may not think this will affect you in Saskatchewan, however, should you purchase windows made in Alberta and bring them to Saskatchewan to install into your home, be aware that when you apply for your building permit, it will state that NAFS 08 compliant windows and doors are required. Whether or not your building inspector enforces it is at his or her discretion.
---