Energy Star
---
Energy Star Certified Windows
How do our windows qualify for Energy Star?
Even though windows do not consume energy, they can be a significant source of heat loss in a home. Energy Star qualified products will save money by reducing your overall annual energy costs. They will also help keep your home more comfortable year round.
Energy Star qualified, products must meet specific energy efficiency levels that have been set up for three climate zones in Canada. In addition, all products must be certified for their energy efficiency by an accredited agency.
The three climate zones were developed by using an average of the annual temperature. Windows are qualified for each zone by how well a window insulates against the cold and how well it uses the sun's heat to supplement the heating system of a home. Because the climate becomes progressively colder from Zone 1 to Zone 3, the levels are more stingent for each successive zone. This means that models that qualify for Zone 3 will also qualify for Zone 1 and 2.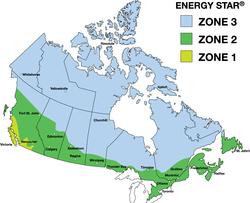 When shopping for Energy Star Certified windows you may come across the following terms
When shopping for windows you will see window products that are rated on either their U-factor or their Energy Rating (ER).
The U-factor is a measure of the rate of heat gain or loss through glass due to the difference between indoor and outdoor air tempertures. The lower the number, the slower the heat loss.
The ER is a formula that includes the U-factor, air leakage and the benefit of potential solar gain. The higher the value, the higher the potential annual energy savings. However as much as the ER value indicates energy savings, homes in colder climates need a lower U-factor the most. A lower U-factor indicates better insulating properties. Remember that in Saskatchewans climate, a really high ER number may not be what you want. This usually comes with high solar heat gain, and as much as that may benefit you in the winter, imagine the discomfort and cooling costs you will experience in the summer with our long hot days. We always strive for year round comfort and year round energy savings.
Solar Heat Gain Coefficient(SHGC) is a percentage of solar energy that is transferred indoors both directly and indirectly through the glass.
Windows are not normally assigned an R-Value when tested. However, contractors and some window sales people may refer to an R value as a way to measure performance. R-value is a measure of resistance to the flow to heat. There is no formula to directly convert the ER value to an R-value.
We have had our windows tested twice since we started manufacturing in 2008. Once in 2009 and again in 2016.
In 2009 the government came out with funding for homeowners who upgraded their homes making them more energy efficient. Windows were a part of that program, but in order to get the money from the government you had to replace your old windows with Energy Star Certified windows. This required us to have our windows tested in order to be qualified. We made up and sent three different styles of windows to Intertek Testing Laboratories in Vancouver, British Columbia. These windows all larger in size, were to be tested to the new CSA A440 requirements in order to qualify for the Energy Star Program.
Windows were given a Performance Rating in each of the following categories:
Air Leakage with ratings from A1 to A3, with A3 being the best
Water Penetrations with seven rating levels B1 to B7, with B7 being the best.
Uniform Structural Load ratings from C1 to C5, with C5 being the best.
We can proudly say that each of our windows that were tested scored with the highest ratings in each category. It was quite a feat for our smaller window company to gain such outstanding results when testing our windows against larger North American Window Companies that didn't do as well!
In 2015 new Energy Star guidelines came out for windows to be Energy Star Certified. This meant that all window manufacturers had to retest their windows to the new test sizes and pressures to be in compliance with AAMA/WDMA/CSA 101/I.S.2./A440-08 and -11 - North American Fenestration Standard specifications for windows, doors and skylights(NAFS 08 & 11) and to the CSA A440S1 - 09 Canadian Supplement to AAMA/WDMA/CSA 101/I.S.2/A440. We prepared new window test units and sent them to Intertek Testing Facilites in Winnipeg, Manitoba. Again our windows tested extremely well, even in the commercial application class. This time Performance Ratings were not given in the ABC ratings as in 2009. This time our windows were given a Performance Grade (which will be explained more in depth under the NAFS section). Not only do our test results prove that we provide a top of the line, high quality window product to our customers, but every time we test our windows, we learn what is expected of our window product and how we can improve. Having one of the Most Energy Efficient windows on the market today is our committment to you our customer.
Windows can be a once in a lifetime purchase if the right choices are made.
Remember to look beyond Energy Star

. Just because a product is certified and meets minimum government standards, does not make it the best choice for your home. Don't overemphasize the ER rating, instead focus on the U Values. The goal is to SOLVE your window/home comfort problems with a very unique and extreme Saskatchewan climate to combat.

Look for Energy Efficiency along with design of construction.

Ensure longevity to ensure years of trouble free operation and use a reputable company who will install, follow up and if needed service your windows.

Look for window made for your particular climate zone

- We still see customers replacing their windows with dual pane windows just because they are cheaper. Remember what you pay for is what you get. Saskatchewan weather is very hard on all products, therefore requires well insulated, well sealing, high performance windows. Dual pane windows will not provide the energy savings that triple pane windows will, and should not even be considered for ones living space.
---