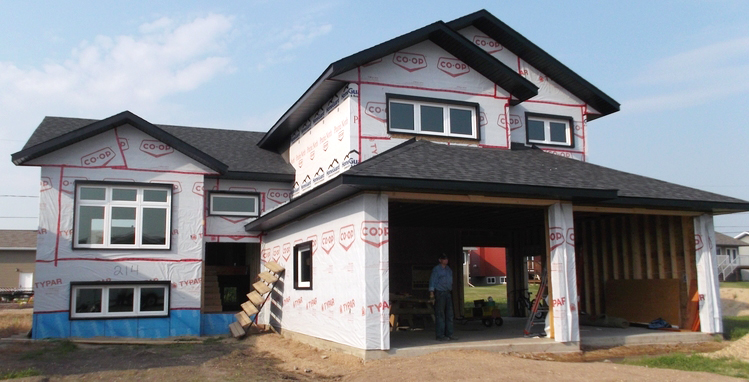 Here are a few pointers to help you with your new home window decisions.
When choosing windows for your new home, is important to consider design, functionality and performance. These features are often overlooked with the priority being focussed on how the windows will look from the outside of the home. As much as this is important, it is also important to consider the functionality and aesthetics of your window from the inside of your home as well. How will they affect your comfort and energy savings in the future? High quality windows will generally be one of the most expensive features of your new home, replacing poorly designed windows is not something that most homeowners will be able to do soon after building a new house. Do your research, a well designed window package will provide you with comfort and time to enjoy the beauty of your new home.
With over 30 years of experience in helping people with their new construction plans, we urge all builders and clients to consider the following pointers when designing their own home.
Window frame thickness perimetering the glass.
The width of the window frame of:
An operator (opening) window has 3 ½" of vinyl around the perimeter plus the width of the Brick mould. (+BM)
A picture window (LPF or VP) has approx 2" around the perimeter of the glass (+BM)
A fixed sash (HPF or FS) has 3 ½" around the perimeter (+BM)
What this means to you is:
An operator or a fixed sash window that has an OSM (outside measurement of window frame not counting the BM) of 30" wide will have a visible glass width of 23". (You get this number after deducting the thickness of the vinyl frame from the OSM). If you are designing a combination window (joining one operator to a fixed sash) you will end up with a mullion post between each peice of glass that will be 7" wide. When you are designing combination windows be aware that this heavy mullion post may bother your viewing. Combination windows can have this post either running vertically or horizontally (and in some cases both directions on very large multiple unit combination).
A picture window that has an OSM (outside measurement of window frame not counting the BM) 30" wide will have a visible glass of approx 26". If you make a combination window with a picture beside operator(opener), the mullion post will be approx 5 ½" thick. With a combination window that is a 50/50 split with both frames having the same size frame (OSM), the glass which is the most seen or eye catching will appear 3" smaller on the operator side or 3" bigger on the picture window side which may give the window an out of balance effect. You may want to consider making the OSM width of the picture window wider than that of the operator side. This intentional out-of-balance design as a 1/3, 2/3 look or a 40/60 is visually more appealing. If you have a picture window beside a picture window, the mullion will only be about 4" thick.
Keep in mind that drawings from architects, draft persons, or home drawing computer software usually show the windows drawn with a 2" frame and 2" mullion posts. These drawings do not truly represent the actual size and or the way they will look.
Window sizes for bedrooms in consideration of fire escape, ventilation control and cleaning:
Building codes state that for a window to have legal egress capability, the occupant has to be able to create an unobstructed opening with no less than 542 sq. in. of opening while maintaining no less than 15" of unobstructed opening in either direction.
A window can be built with an egress hinge and achieve the 15" of width in a 22" OSM width frame, but the OSM frame height would have to be 41". In the same OSM height of window you can use a casement window with a standard hinge that will give you both ventilation on the hinge side as well as the ability to clean the outside glass from inside the home without having to take out the glass or go outside. The standard hinge moves the edge of the sash away from the corner 4" as it opens giving you the ability to get both air and a normal sized arm through for cleaning on the hinged side. This means the OSM of frame on the standard hinge casement has to be no less than 26" wide.
We don't recommend casement windows OSM wider than 32". To calculate the proper size for legal egress take the OSM width and subtract 6 ¾" if using an egress hinge, or subtract 10 ¾" from the OSM width if using a standard hinge (a standard hinge provides side ventilation and exterior glass cleaning).
A basement casement window with an egress hinge OSM could be 32" x 27". As much as one can get away with this size and shape we would still prefer a window measurement where the first measurement, the width, would be less then the second or height measurement.
Awning windows are not recognized as a legal egress window, because the operator arms that open and close the window would be in the way of an unobstructed fire escape.
Window sizing:
Window sizing is important not only due to cost factoring but also due to light, view, ventilation, cleaning and maintenance.
When designing your window package, consider what the room is used for and the angle of view from sitting or standing etc.. Think about your angle of view when normally standing, sitting upright on a firm chair, or sitting low in a soft cushy chair. Make sure your windows are low enough for view but not too low in the wall or privacy, performance or cost.
There is a tendency to put in too many and too large windows in bedrooms. The little sitting areas in bedrooms are seldom used. The majority of time spent in the bedroom is sleeping and most people don't want excessive light in the early morning. The one thing to keep in mind with bedroom windows is the egress or fire escape capability.
Ventilation is nice for natural airflow, but a ventilating window is a lot more expensive and has less natural light and view in comparison to an equal sized picture window. Most new homes are now being built with central air conditioning and, in some cases with air-to-air heat recovery air exchangers. Regardless, you will need opening windows in bedrooms for fire escape unless you have an exit door to the outside.
Consider that you spend most of your time inside the home and your window design should function well for what you are doing on the inside. In our home, we have a lot of glass but we now find we have no wall space to put furniture up to or hang paintings and other accent decoration. We are not trying to discourage people from purchasing more or larger windows, but we want to ensure you think about some of these considerations. You want your home to be attractive from outward appearance, but you only pay attention to it as you drive up and park in the garage. As much as, or more important, is your inside design and aesthetic.
---
Reasons to consider opening windows
To create a cooling draft

- To experience a cooling draft, two strategically placed windows can ventilate a large area without the added expense of opening all windows.

Ventilation - To quickly get rid of smoke, odour, high humidity or heat.

These are common concerns in kitchens, bathrooms and laundry rooms where you can have short-term increases in these types of air qualities.

Fire escape -

specifically in bedrooms. Few of us think of windows as lifesaving equipment - but they are! If you need to escape a house fire or other disaster, or when rescue personnel need to enter - the right size egress window can make the difference between life and death.
The ability to

clean the outside of the glass from inside the home -

Windows at a higher level can be designed using specific hardware to allow you to wash your windows from the inside of your home, elimnating the need for tall ladders.
Window placement:
Here are a few pointers when designing each individual room in your home. Keep in mind that typically the tops of windows are placed at the same heights as the top of the doors in your rooms, which is about 81 1/2" from the floor.
Living Room Windows
A typical living room window is usually about 60" tall and 20 - 21 1/2" from the floor to the bottom of the window. This is a reasonable height for viewing but not too low for reaching hardware for operating an opening window. When designing your living room window, keep in mind that the lower the window is to the floor, the more prone it can be to smudges from children and pets as well as damage from furniture, toys etc.
Dining Room Windows
Dining Room windows work well with the bottom of the window being about 30" to 32" off the floor with the typical height of a dining room window being around 48" – 50" high. This leaves you with a good size for viewing when sitting at the table without having someone from the outside looking in under your table level.
Kitchen Windows
Kitchen windows over the counter should be about 40" to 42" off the floor and approximately 38" to 40" in height. This provides a good view while standing at the counter. Most counters are 36" high , and if you have a backsplash it will be 3" to 4" high. If you choose to place your window closer to height of your counter, keep in mind that water from your tap or sink is more likely to splash on the glass of your window.
If you are a shorter individual, consider having the height of your counters and windows customized for your height to allow a better view outside and a more comfortable work area for yourself.
Bedroom Windows
A nice height for bedroom windows is about 40" to 44" from the floor or window height of bout 34" to 40". This allows flexibility for furniture placement, and provides you with a good view when standing at the window, while still providing privacy. It is also at an easily accessible height to allow for fire escape.
Bathroom/Utility Windows
Windows in the bathroom and utility room are optional. Very often, air quality is controlled through mechanical means in these rooms through venitlation. However it is a nice option to have natural light that windows can provide in these rooms. Ideally windows in these areas, are best placed at a height of 50" – 56" off the floor and at 24" to 30" window height to provide light and a view. This will maintain privacy and allow less sight path to your laundry area from the outside.
Basement Windows
Basement windows should be no less than 28" high, with an ideal height being at 32" high. This height would allow you to have a better quality casement window for you basement rooms, as well as egress hardware for fire escape in bedrooms. However, should you decide to go with basement windows this high, your foundation would have to be out of the ground more which would require creative landscaping around your home or more stairs either from the outside or within your home to get to the main floor of your home.
These are just a few recommendations that we feel will be helpful for you as a start. We realize that there are so many new features available to homeowners today that will help customize how your home will function for you.
Requesting a quote
To request a quote for windows for your new home. Please send us your preliminary drawings including your floor plan with window sizes and elevation drawings. With this information, we will be able to get an idea of the architectural styling of your home and insights as to what type of window and what options you may want.
Once we have a chance to look over your plans, we will give you our recommendations and work with you to design a window package that will make this your dream home.